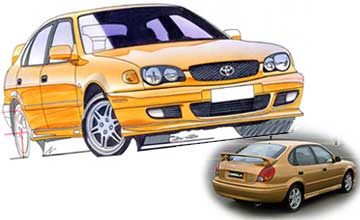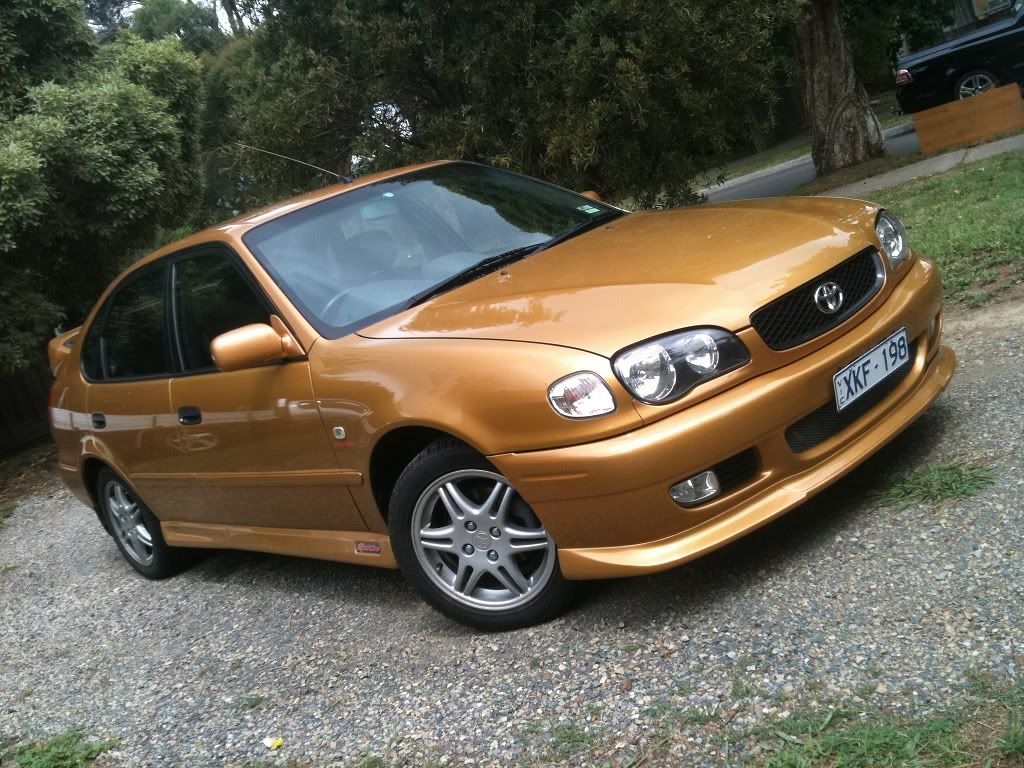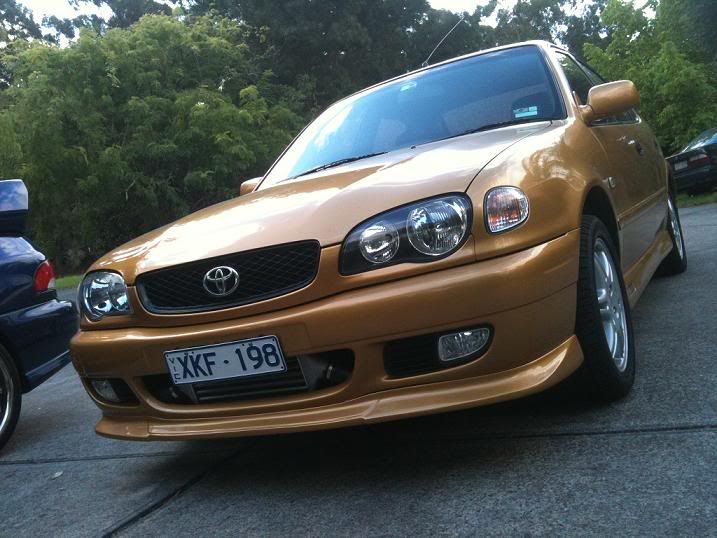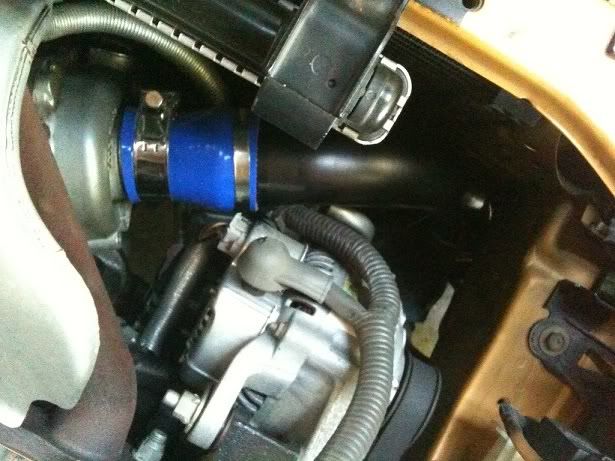 Редкая комплектация рестайлового лифтбека AE112-R Toyota Corolla Sportivo TURBO
Да именно у этой модели стоял 1.8 с турбокитом TOYOTA и фронтальным интеркулером в СТОКЕ!!!
Эта рестайловая модель COROLLA Liftback выпускалась исключительно в GOLD - в золотом металлик цвете.
Так же эта модель выпускалась исключительно в правом руле для Австралии и Великобритании от чего имеет второе название:
Toyota Corolla AE112-R Sportivo LEVIN

Мотор 1.8 IHI Turbo 156 л.с. и 237 момента!!!!

Engine:
1.762-litre DOHC 16-valve front-mounted transverse turbocharged and intercooled inline four-cylinder
Power: 115kW @ 5600rpm
Torque: 237Nm at 3600rpm
Bore x stroke: 81.0 x 85.5mm
Compression ratio: 9.5:1

Transmission:
Five-speed manual only
Suspension:
Front: independent by MacPherson struts, coil springs, anti-roll bar
Rear: independent by spring-struts, coil springs, anti-roll bar

Steering:
Power-assisted rack-and-pinion
Turning circle: 9.6 metres
Turns lock-to-lock: 3.2

Dimension:
Length: 4290mm
Width: 1690mm
Height: 1370mm
Wheelbase: 2465mm
Front track: 1460mm
Rear track: 1450mm
Kerb weight: 1175kg

Standard Equipment:
Body coloured mirrors
Front fog lights
15-inch alloy wheels
Metallic paint
Stainless steel exhaust
Leather gearknob
Leather steering wheel
60/40 split-fold rear seat
Front power windows
Air-conditioning
Front vanity mirrors
Power steering
Tilt-adjustable steering wheel
Power mirrors
Variable intermittent wipers
Rear washer/wiper/demister


The Sportivo is fundamentally a Corolla Seca Levin - previously presented as the sportiest of Corollas. A small IHI turbocharger is bolted on to the virtually stock 1.8-litre DOHC engine (no forged pistons here) to deliver 115kW and 237 Nm of torque. Those figures are up a substantial 35 and 53 per cent respectively on the normally-aspirated unit, making this the most powerful Corolla ever sold here. An intercooler, a stronger clutch pack, high-performance brake pads, stiffer suspension springs and semi-sporty Bridgestone rubber are all designed to cope with the extra urge offered over the standard Corolla fare.

Plan Views

The fundamentals of the Corolla's transverse front-wheel drive layout remain unaltered, although the amount of power and torque channelling through to the front wheels has risen appreciably. Therefore the Sportivo now has a TRD (Toyota Racing Developments) clutch and clutch pressure plate.
Engine

The addition of a small IHI turbocharger boosts the 1.8-litre DOHC 16-valve engine's power output from 85kW at 5800rpm to 115kW at 5600rpm, and its torque from 154Nm at 4800rpm to 237Nm at 3600rpm. Along with the turbocharger comes heat shields, a dedicated front exhaust pipe and manifold, an intercooler and piping. The engine's control unit and fuel injectors have also been replaced with components engineered to suit turbocharged operation. Other modifications include revised spark plugs and the addition of an oil separator. The Sportivo requires premium unleaded fuel.
Suspension

Like all Corollas, the Sportivo's suspension is an all-independent affair with MacPherson struts front and rear. Suspension modifications were limited to springs, Bridsgetone tyres and the 15-inch "Corsica" alloy wheels. The coils are 15 per cent stiffer all round - and lower by 17 mm at the front and 15 mm at the rear - which produces a slight alteration in steering geometry.
Transmission

Only a five-speed manual transmission is offered with Sportivo. While the internals are untouched, the clutch and clutch pressure plate have been strengthened by adopting TRD (Toyota Racing Developments) items. Inside the cabin, the gearknob is made out of polished metal.
Brakes

Disc brakes are standard all-round on Sportivo, the fronts being 255 x 22mm ventilated items and the rears 266 x 9.0mm solid items. Single-piston sliding callipers are employed front and rear. Four-channel anti-lock braking is standard, but the sole concession to the Sportivo's increased performance is the use of heavy-duty brake pads.
Steering

The Sportivo's power-assisted rack-and-pinion steering is unaltered from other Corollas, with only the shortened springs bringing a slight change in steering geometry. This generation Corolla received a new steering box with a revised pinion helix angle, which is claimed to improve on-centre feel and reduce noise, vibration and harshness (NVH). Revised power steering valve characteristics are also said to improve initial turn-in and corner tracing. The steering wheel is adjustable for height only.

Выпуск 110шт - Limited Edition



Нашел немного информации про эту модель
http://www.toyotasportivo.com

Toyota Sportivo

Sportivo is the name given to the sports models of Toyota Australia, including the Corolla, Echo, Camry and Aurion. The Sportivo name was also given to Toyota Australia's concept car which can be seen above. Toyota market a range of aftermarket equipement such as alloy wheels, spoilers and body kits which also carry the Sportivo brand.

Below is a selection of Toyota Sportivo vehicles, please click on a vehicle for more information. Visit again soon as we are always adding new content...


Toyota GT86

Stop the presses!

Toyota have just released the amazing new Toyota GT86!

For too long we Toyota fans have been lumped with FWD cars like the ones below. Don't get us wrong, we love the Sportivo range, but the GT86 is in a whole different league!

We wonder it there will be a Sportivo version of the GT86. That would be cool!

Here at ToyotaSportivo.com we will keep you updated on any GT86 Sportivo model if it becomes a reality.

Check out the Toyota GT86 page for more info.

Although the Sportivo range of Toyotas have great looks and handling, some of them can be a little lacking in the engine department.

Unfortunately Toyota Australia thinks that we care more about looks than power, but for many of us that is not true!

In Japan some of these Toyotas are released with much more powerful engines, and thankfully you can import these engines and fit them to your Aussie Toyota.

The easiest way to convert your Aussie Toyota to JDM (Japanes Domestic Market) spec is to import a half cut of the JDM version of your car.

The half cut will come with the engine, gearbox and all other parts required to convert your Toyota into a much more powerful beast!